Fresh Thinking. Bright Ideas.
CHART 104 Orlando Hospitality Training Conference
The sunshine state has so much to offer, including a juicy crop of fresh ideas! At CHART 104 Orlando Hospitality Training Conference, you will experience the fresh thinking and bright ideas that will have a big impact on your career and in your organization. Level up your performance in three life-changing days with top hospitality training professionals, learn best training practices, and connect with your peers July 29 - August 1, 2023 in the magical city of Orlando, FL.
If you are a hospitality training and development or human resources professional looking for answers to improve the performance of your training programs, team members, and your organization as a whole, you have come to the right place. At CHART, fast-track your access to current hospitality training trends, the most effective training practices, world-class programs that work, innovative and fresh perspectives, and best of all – a trusted network of contacts that you can call on any time for ideas, advice, or feedback. At CHART, gain industry-specific tools and resources to help you do your job better and solve your biggest challenges at work.
CHART is a professional association whose mission is to develop hospitality trainers through access to networks, education, and resources. Join us at CHART 104 Orlando and prepare for an invigorating infusion of bright ideas and fresh thinking. Register today!
A conference designed by trainers for trainers
CHART's annual Hospitality Training Conference is the place hospitality training professionals gather to learn, connect, and grow. This event is specifically designed for: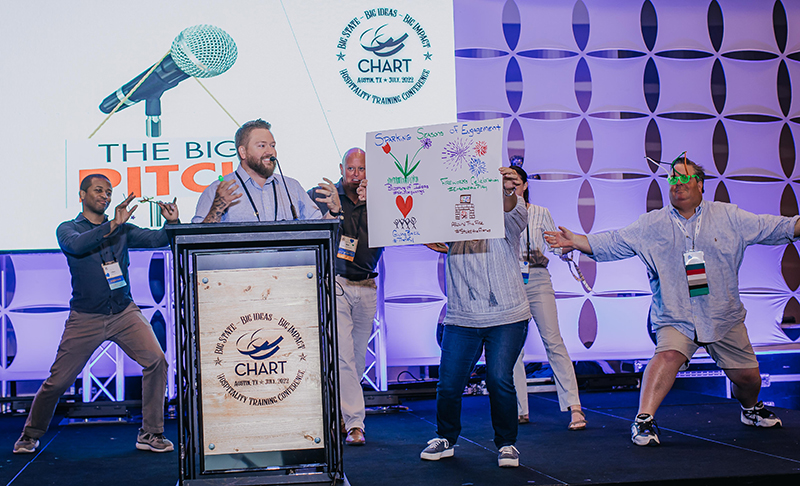 #1 The hospitality training and human resources professional. If you are employed by a multi-unit lodging, foodservice, or other hospitality operation, and have the responsibility to create, implement, or oversee programs for education, training, and developing human resources - this event is for you. You will be amazed at how many people you connect with who have walked in your shoes and want to share and help.
What makes CHART so unique is the vibrant, dedicated membership, combined with the fresh perspectives of new attendees. These are people just like you who are looking to improve performance for themselves and their organizations, are high-energy, and enjoy having fun.
#2 Are you new to hospitality training? No worries, we've got you. We have an onboarding program just for First Time Attendees to help you feel welcome from the start and get a jump on how to make the most of your conference experience. Plus, much of the content is designed so you can quickly learn best practices and new techniques.
Here is why you should attend this conference
#1 Discover the fresh ideas that will help you make an impact on your company and in your industry. When you make time for your own professional development, some amazing growth happens.
Every summer, CHART's Hospitality Training Conference features current trends, best practices, and practical ideas that trainers can take back and implement immediately in their organizations. Top trainers attend each year to gain insight from thought leaders and to celebrate developing people at CHART's annual Commitment to People awards and scholarships gala.
#2 Develop a trusted network and lasting relationships you can draw upon for years to come. Networking doesn't even begin to describe what happens at CHART. CHART is renowned for its sharing format, where your time to interact with others is woven throughout the agenda. This ensures you will make high-quality connections and even great friendships that last well beyond conference time.
Hospitality Training Transformation Begins Here:

#3 Experience an amazing conference value with your ROI in mind. CHART strives to keep costs low to keep attendance well within your training department's budget. CHART conferences feature central locations in off-peak times, low room rates, most of the meals, and three nights of refreshments in the Hospitality Suite. Not to mention the educational content!
#4 Enjoy the bright excitement of Orlando! It's a one-of-a-kind magical destination where anything can happen. Surrounded by citrus and sunshine, you will be inspired to explore fresh ideas with other like-minded hospitality trainers!
#5 Earn CHT recertification points. Trainers who have earned their Certified Hospitality Trainer (CHT) achievement through American Hotel and Lodging Association (AHLA) need a total of 50 points every 5 years to be eligible to renew. CHART membership, conference activities, and other involvement count toward this goal. See the points structure.
Need to make your case to attend?
Download a draft letter to your supervisor listing the networking, resources, solutions, and information that you will be bringing back to your company from CHART. Customize it to include the specific sessions at CHART 104 Orlando that are of highest interest to you and your organization. You can also reference the 2023 Conference Budget Flyer to help you plan for your conference expenses.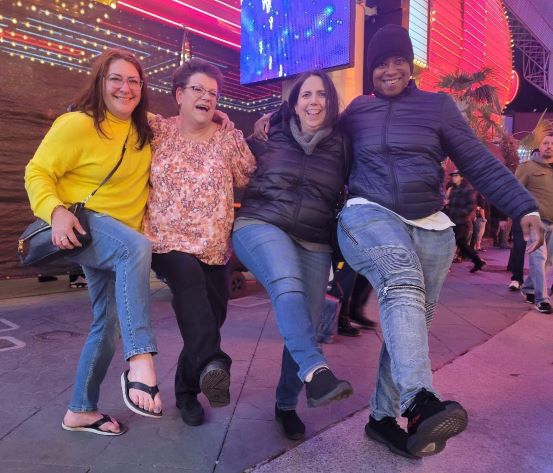 Eligibility: CHART Conferences are open to individuals who are eligible for membership. Attendees must be employed by multi-unit lodging, foodservice, or other hospitality operators, and have the responsibility to create, implement or oversee programs for education, training, and developing human resources. 
VENDORS and CONSULTANTS
Email the CHART Office for information on how you can participate in this industry event.    
CHART Hospitality Training Conference Orlando, FL
July 29 - August 1, 2023
Register by  July 14, 2023
Register by June 22, 2023 to receive a special discounted rate!
(Cancellations received by July 14, 2023 will receive a refund less a $150 administration fee. No refunds after July 14, 2023.)
Rosen Plaza Hotel
9700 International Dr. 
Orlando, FL 32819