What is the Hospitality Training Competency Program?
The CHART training competencies are the professional skills necessary for helping trainers to grow and provide greater value to their respective organizations. This program defines the competencies necessary for success across a variety of roles in hospitality training—executive, manager, instructional designer and trainer.
CHART's winter Hospitality Training Competencies Conference, offered each year in February or March, features all 12 of the competency workshops, as well as hot industry topic breakouts. Click here for workshop session descriptions and breakout topics. Click here for a PDF flyer describing the program.
How does the program work?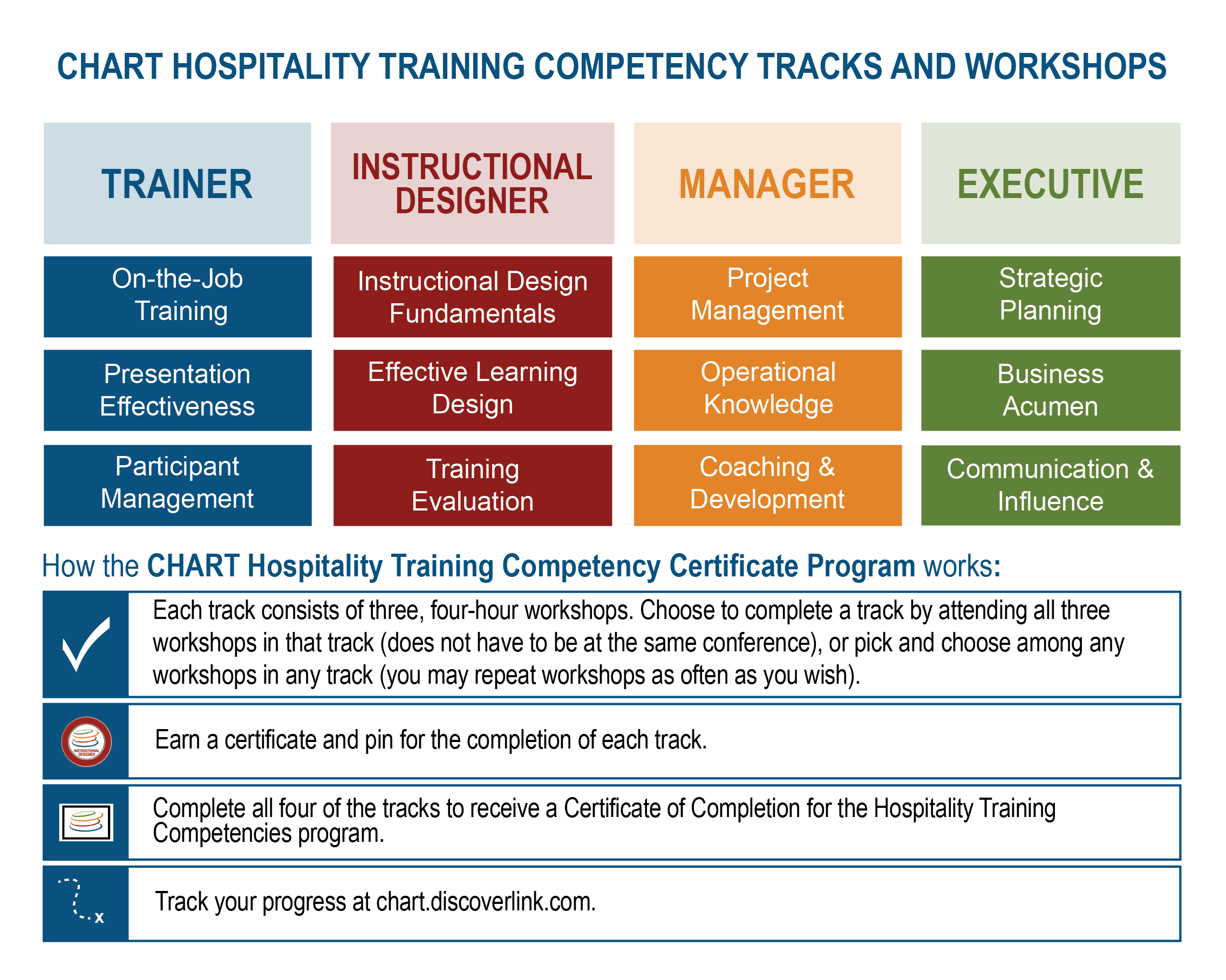 Each track consists of three, four-hour workshops. Choose to complete a track by attending all three workshops in that track (does not have to be at the same conference), or pick and choose among any workshops in any track (you may repeat workshops as often as you wish).
Earn a certificate and pin for the completion of each track.
Complete all four of the tracks to receive a Certificate of Completion for the Hospitality Training Competencies program.
Track your progress at chart.discoverlink.com.
Four MasterClasses Help Make Training Stick
Designed for participants that have completed the track, the MasterClasses offer an opportunity to put into action the principles covered in the track. Completion of the track prior to taking a master class is encouraged but not required.
competency Master facilitators
Each competency has their own group of master facilitators and you can see everyone here. Interested in presenting a competency? Email Tara.

Track your progress and plan your path with CHART's Competency Certificate Tracker
Our user-friendly Competency Certificate Tracker, designed by our partner DiscoverLink, a CrunchTime! Company, allows you an easy way to track your progress through the program and even print certificates of completion on demand.
Visit chart.discoverlink.com and enter your email address for both the login and password to access your profile, showing which workshops you have completed.